Data
Sharing datasets
Quantemplate's permission model allows you to provide different levels of access to your datasets within your organisation.
There are three permission levels for datasets:
Can view
Invitee may view the dataset and use in reports in and pipelines
Can edit
Invitee may view, use and edit the dataset
Owner
Invitee may view, edit, share and archive the dataset
Sharing a data set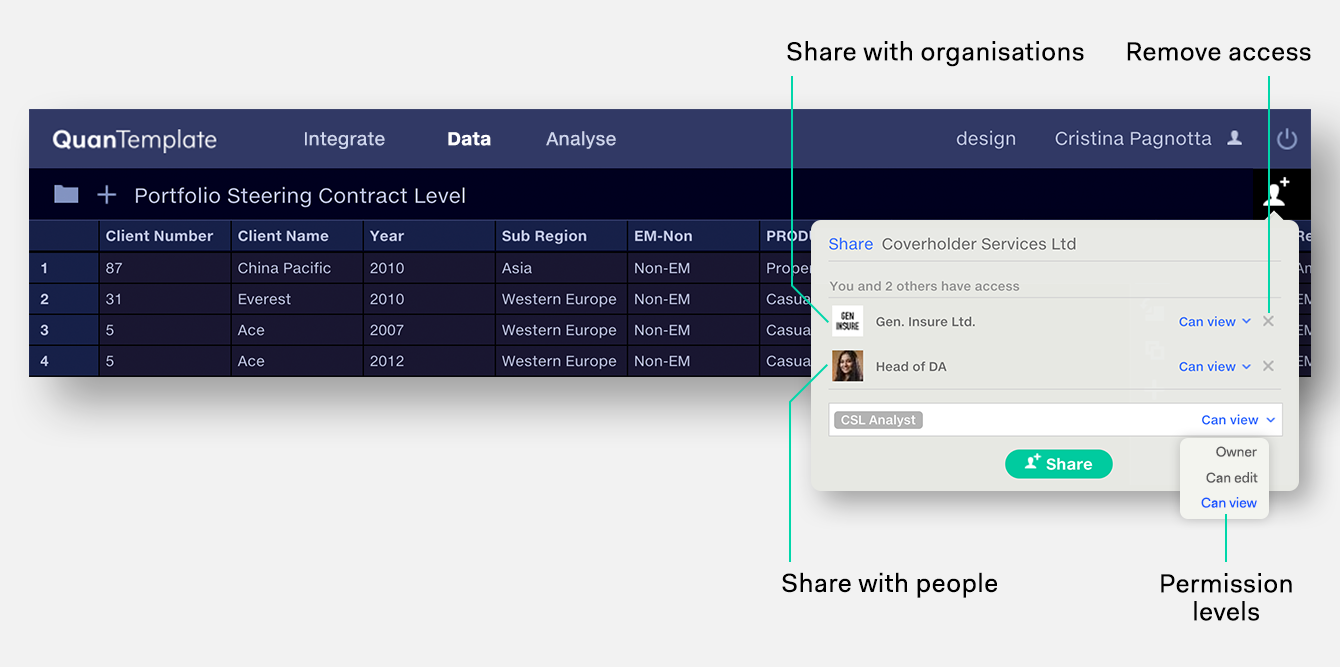 Only owners are able to control sharing settings on a dataset.
Create a new dataset from within the report view:
1.
Click the share button in the toolbar.
2.
Click in the 'Share with more people field' and select a person to share with.
3.
Add more people if desired.
4.
Select the invitees' access permissions (view, edit, owner).
5.
Click the share button in the popup.
To share with all members of your organisation, select the organisation entry from the list of sharing suggestions.
To change a person's permissions level for a dataset, select a new permission level next their entry in the permissions popup.
To remove a person's access to dataset, click the cross next their entry in the permissions popup.
Leaving a dataset
Editors and viewers can revoke their access to a dataset by clicking the cross button next to the dataset entry in their Data repo.
Using APIs to extract data
Using Quantemplate's data egress APIs, developers can build tools to automatically extract from the datasets stored in the data repo. Visit the
Quantemplate Developer Hub
for full details.