Inputs and outputs
Pipeline outputs
Viewing output data
From the Run log use the output selector to navigate to pipeline outputs from either the current run or previous runs.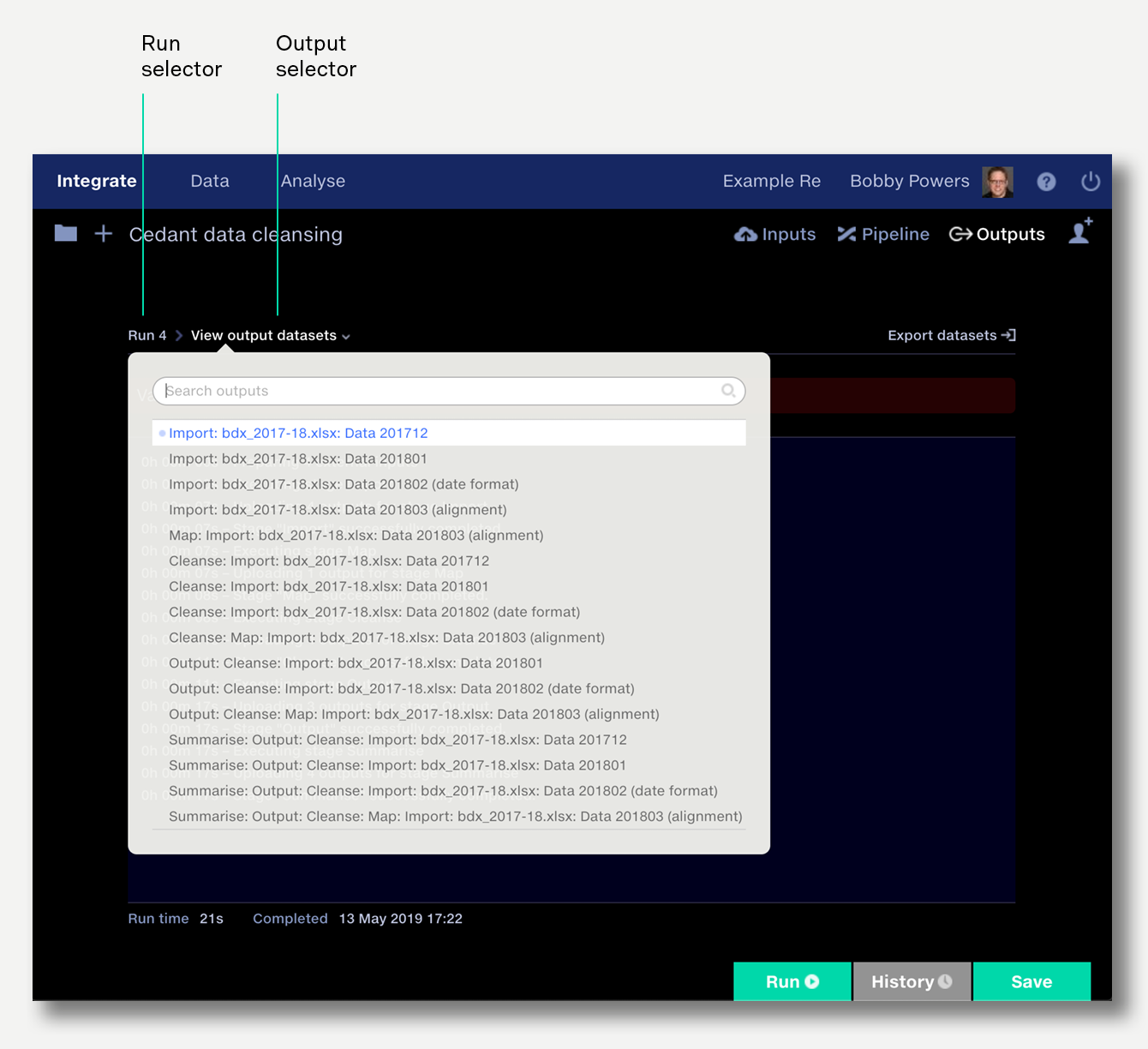 Filters
Apply filters to the output data preview to understand your data better.
Filter bar keyboard shortcut
Press the F key to quickly toggle open the filter bar on any data grid in Integrate.
Viewing data from previous pipeline runs
To view outputs from previous pipeline runs, click the run number and browse previous runs. The popup shows the time and status of the run. Selecting a previous run will open the associated run log. From here you can view the validation or mapping reports or use the output selector to view the data.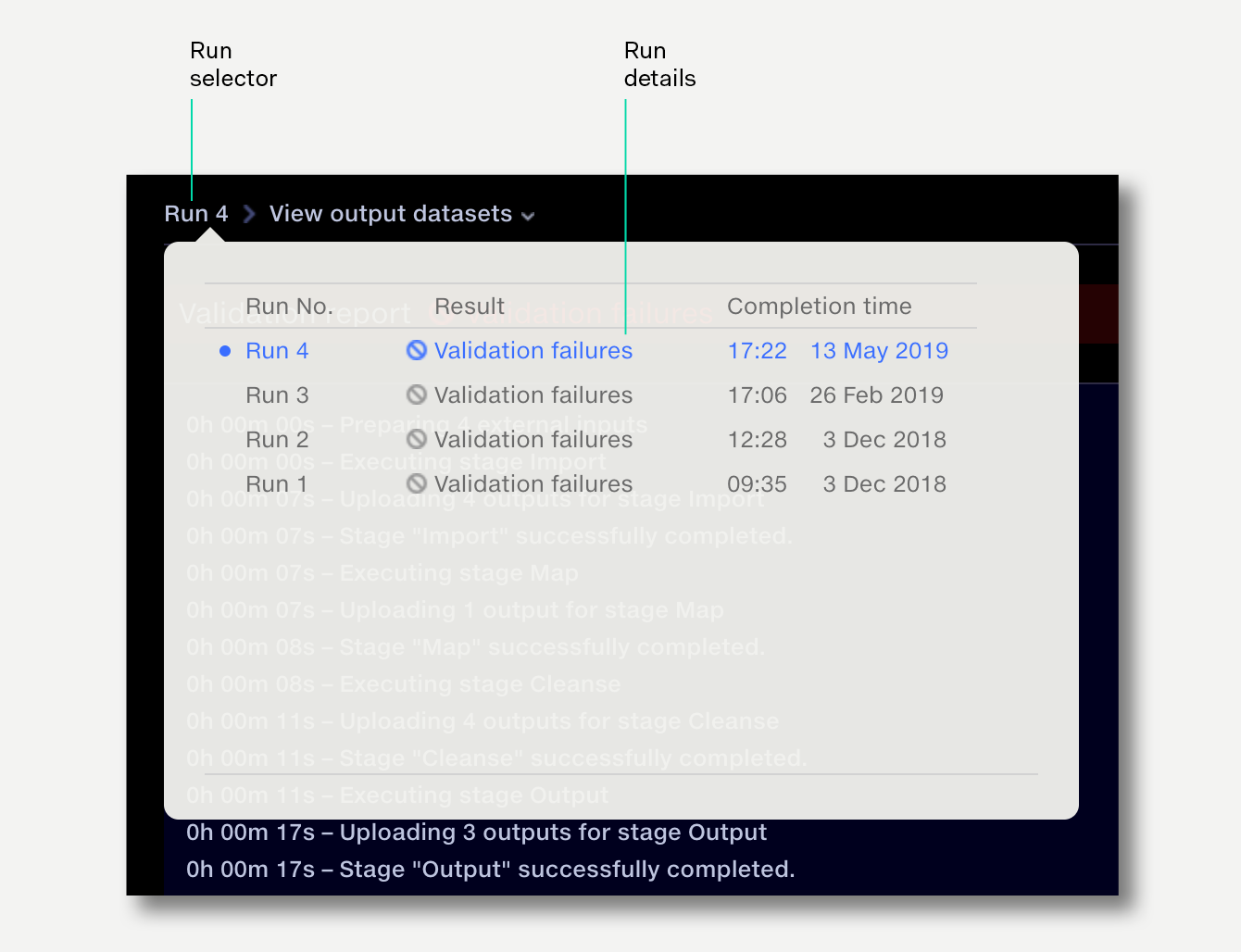 Exporting outputs
When a pipeline is run it creates output datasets which can be:
Sent to your Data Repo to be used in other pipelines, to be queried and visualised in Quantemplate Analyse, to be shared within your organisation or extracted from Quantemplate using our APIs.
Downloaded as CSV files.
Shared with partner organisations to appear in their pipeline inputs.
To export datasets:
Navigate to the run log.
Click the 'Export datasets' button.
In the popup, the 'Export to datasets' tab lists the outputs in your pipeline. In the field underneath each output name, select a location to export to. To overwrite an existing dataset within your Data Repo, select it from the suggested list and press 'Update'.
Alternatively, create a new dataset in your Data Repo by entering a new dataset name and pressing 'Create'.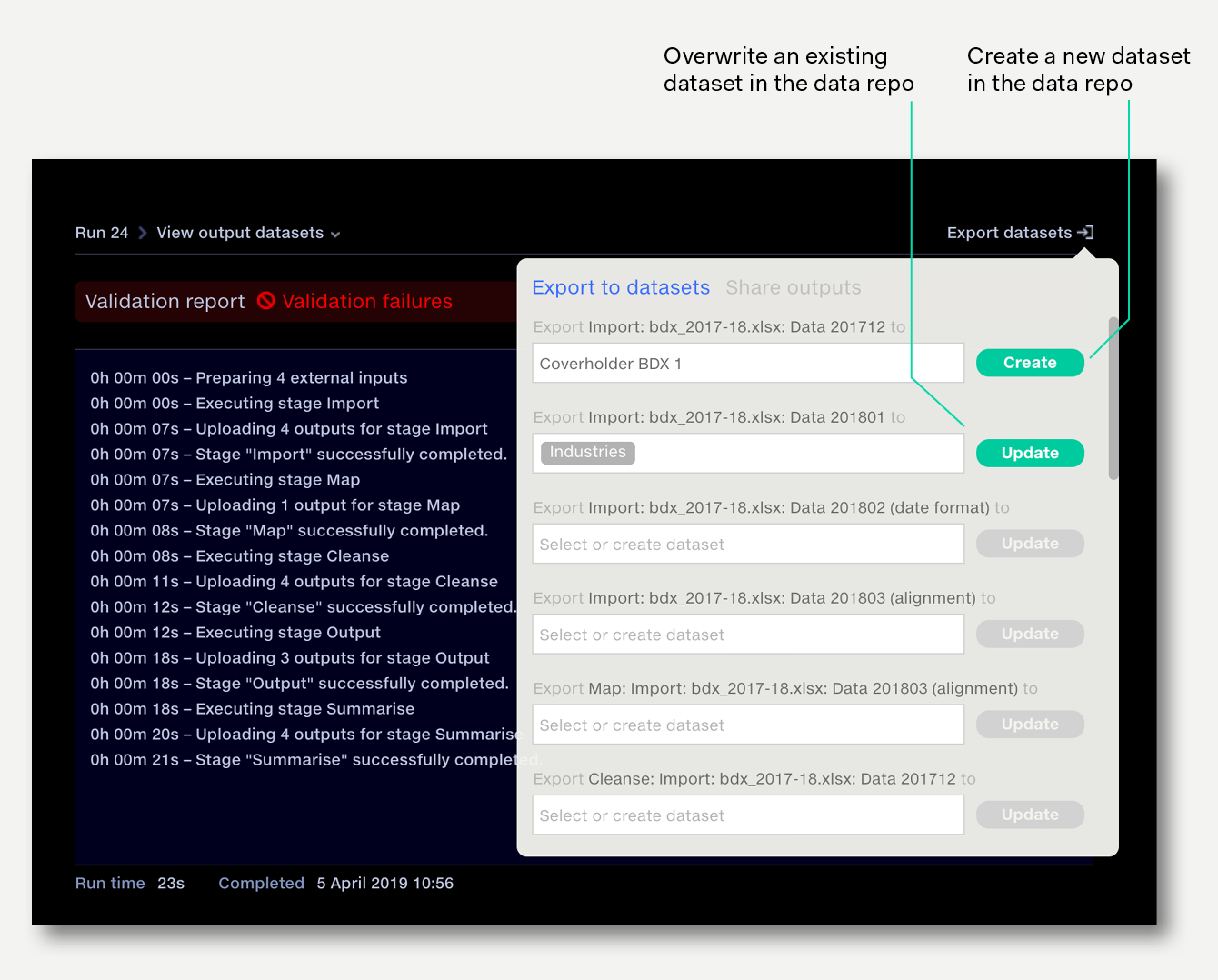 The pipeline creates cleansed and mapped CSV files which can be sent to your datasets repo by clicking the Export button.
Individual outputs can also be exported to the data repo from the output preview, by clicking on the export/download button.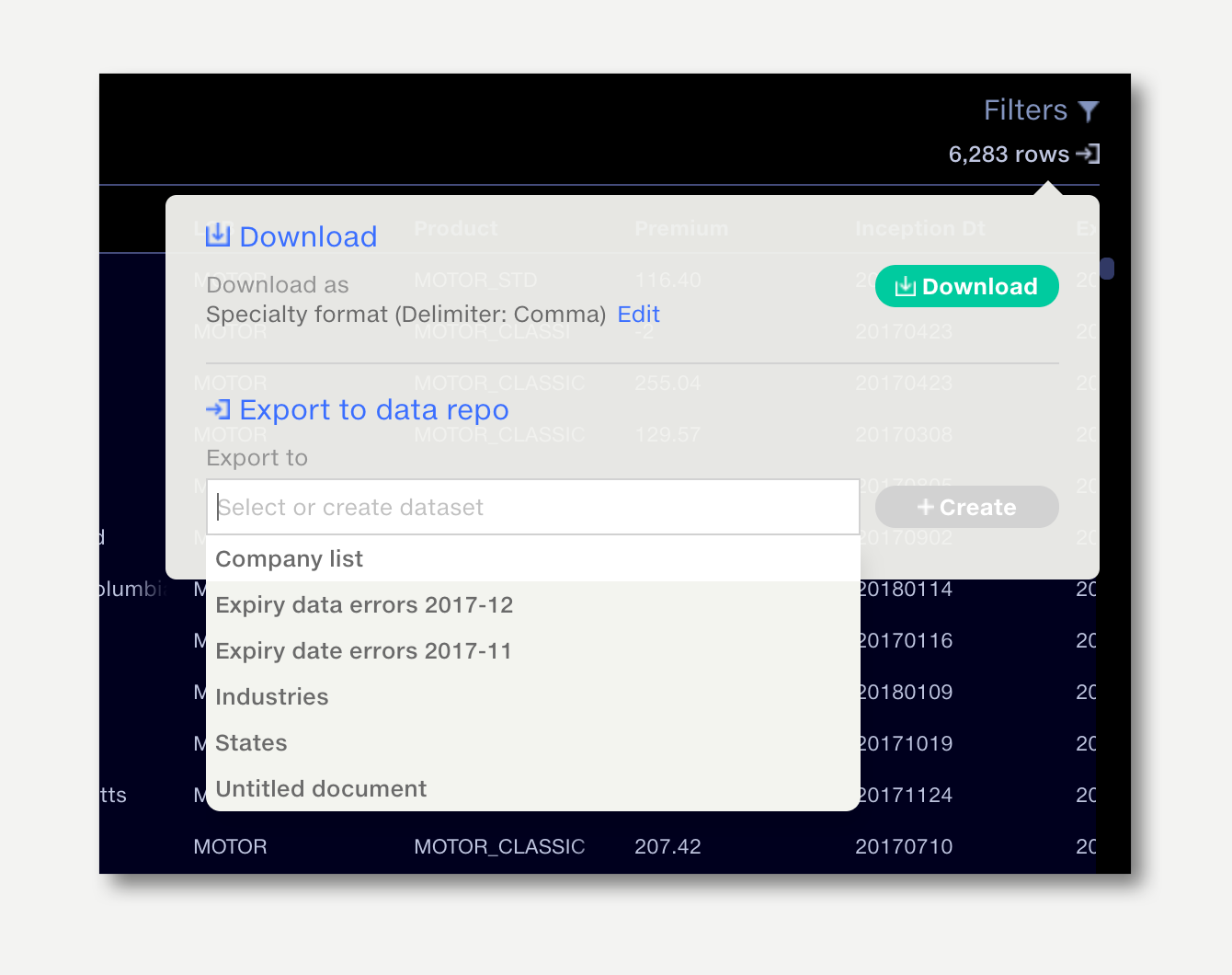 From here further analysis can be carried out in Quantemplate Analyse.
Tip
By default, all stage outputs appear in the list of pipeline outputs available for export. Stage outputs which will not be exported can be removed from the list by disabling them in the stage editor. Removing unneeded stage outputs will also accelerate the pipeline run time. See
Exporting stage outputs
for details.
Downloading outputs
To download an output dataset, navigate to the output dataset, open the download popup then click the download button. The datset will be downloaded as a CSV file.
Download file formats
The default download format is Comma Separated Values (CSV) in standard configuration. To change the download file format:
Navigate to a dataset you wish to download.
Open the download popup and click 'edit'.
Select the preferred format and click download.
The selected format will be remembered as the default for all outputs of this pipeline.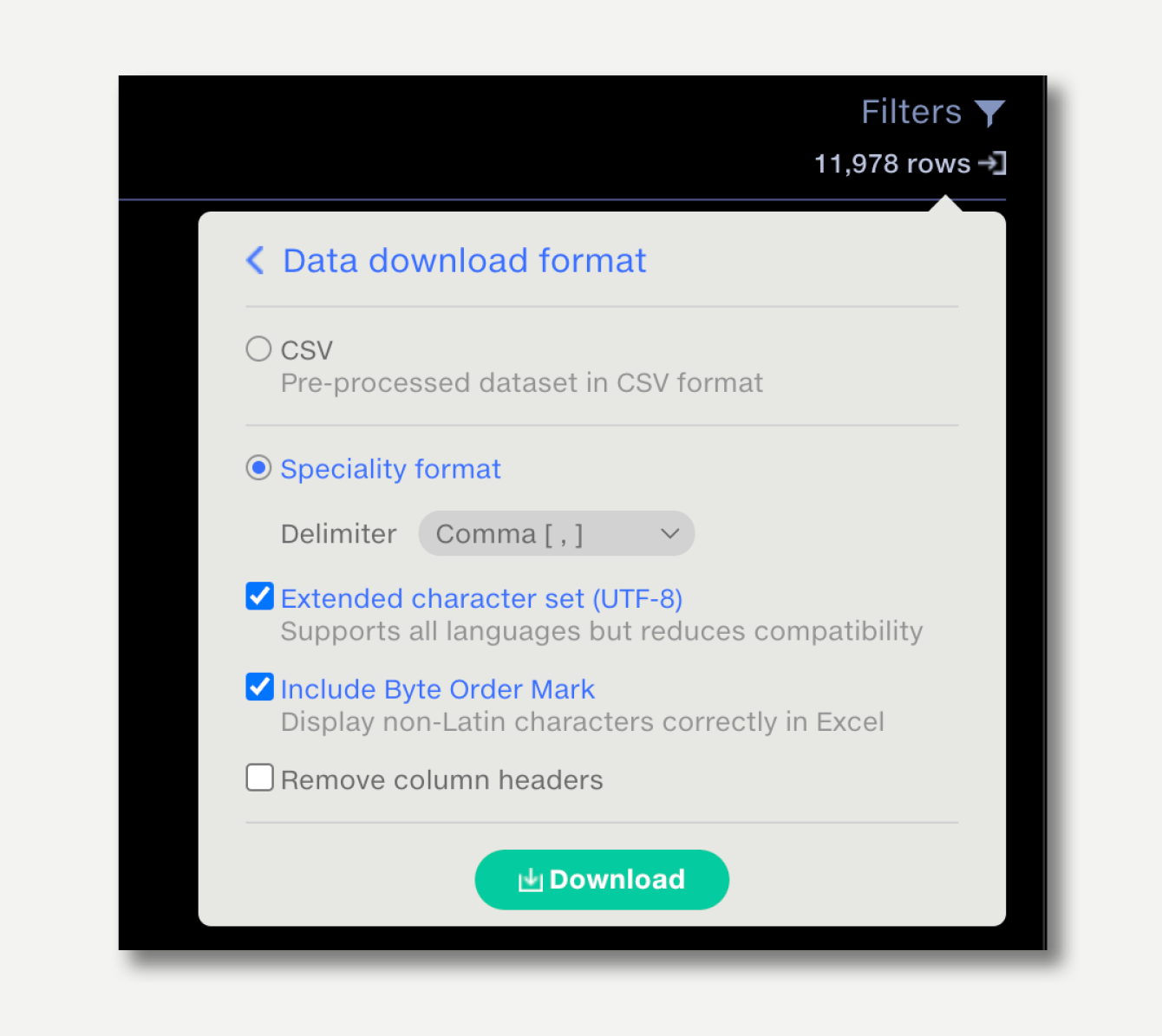 CSV

.csv

Standard Comma Separated Values format for maximum compatibility

Select your preferred delimiter character

Comma

.csv

,

Semicolon

.csv

;

Pipe

.csv

|

Tab



.txt

⇥

Extended character set (UTF-8)

.csv .txt

Extended character set (UTF-8) support may be required if your data contains characters outside the

ASCII

character set. This is likely to be the case with accented characters, special punctuation or non-Latin alphabets. Selecting UTF-8 may reduce compatability with other systems. To format a file containing special characters for use in Excel, select UTF-8 and Include Byte Order Mark (below).

Include Byte Order Mark

.csv .txt

A Byte Order Mark is a set of characters prepended to the data to inform Excel which character encoding has been used and so how special characters should be displayed. Select this option, plus UTF-8 (above), to use data containing special characters in Excel. Note that compatability with other systems may be reduced when this option is selected.
Partner sharing
About partner organisations
Output datasets can be shared between organisations in Quantemplate. Organisations which share data are known as partner organsiations. To set up a partnership with another organisation, contact support.
Whenever the pipeline is run and the output datasets are updated, the other organisation will receive your updated data.
Sharing pipeline outputs with a partner organisation
To share output datasets:
Run the pipeline.
Click on the export button and export the output datasets to your Data Repo
(see Exporting datasets).
In the export popup, go to the share outputs tab.
Select the organisation you wish to share your datasets with.


To share with more partner organisations, click the plus button.